Hi, my name is Alpesh and I like to create things.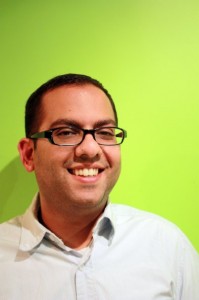 I am an interdisciplinary designer who specializes in solving business innovation problems and teaching others how to do the same. I have been in the field for over 6 years, educating and leading diverse groups through a design-based innovation process.  I've had the opportunity to work with big corporations like P&G, with small business like Juice Inc., and with government agencies like SPRING Singapore. I have the pleasure of working for the Rotman School of Management.
By nature, I'm a developer.  I enjoy understanding problems, putting together workable solutions, and planning the steps to implement them. Transforming rough ideas into actionable results for discriminating clients is what I do best. I consider myself entrepreneurial and very adaptable to changing situations. I've been told I'm patient and always willing to listen and learn from those around me.
In 2006, I earned a Bachelors of Design in Industrial Design from OCAD University, an experience that truly changed me.  A majority of my professional career has been spent advancing the field of Business Design at Rotman DesignWorks, a centre for design-based innovation and education at the Rotman School of Management, University of Toronto where I am the Sr. Associate of Academic Programs.  I am currently pursuing my Masters of Adult Education part-time at the University of Toronto at O.I.S.E. in the Department of Leadership, Higher and Adult Education.
What else? Well, I live in Toronto, take pictures of words, and treat chocolate as a food group. I recharge by taking long walks in crowded, noisy cities.