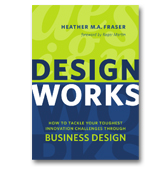 After a year of hard work the book, Design Works: How to Tackle Your Toughest Innovation Challenges through Business Design, is finally available for purchase.  Written by Heather Fraser, co-founder and director of Rotman DesignWorks and an adjunct professor in the Rotman School of Management at the University of Toronto, this book serves as a guide to encourage and inspire business leaders to follow a design-based innovation approach in their business.
I served as the primary contributor and collaborator on the second half of the book, Tools & Tips for the Practice of Business Design.  The tools and methods described in this book are meant to be very hands-on and actionable within an organization.  The instruction is intended to be detailed, easy to follow, and visual. The examples used for each tool are from real projects I worked on at Rotman DesignWorks.
Learn more about it at the official book site and purchase a copy here.