In Part 2 of my Personal Learning Network (PLN) project I'll describe the status of my search and a list of sources I've started to use for this project. Click here for Part 1 and read more about my in-going project question.
I've begun to use my PLN to focus on my first objective: identifying 5 specific career advancement opportunities available to me upon graduation. A simple Google search of 'Jobs you can get with a Masters of Education' reveals a number of sites that list generic job titles.
For example, Chron.com lists the following job titles graduates can expect:
Lead Teacher
School Administrator
Adult Educator
Higher Ed Jobs
Curriculum Developer
Corporate Trainer
Gradschoolhub.com also lists these additional job titles:
Educational Consultant
Educational Policy Developer
While these job titles certainly help to answer my central question they don't take into account my design or business background. A search on Indeed.com for 'Masters of Education' began to pull up more promising job titles that fit my experiences and background, specifically 'Senior Instructional Designer' at BMO Financial Group and 'Organizational Development Specialist' at Toronto Hydro. Searching job search sites provide a great start to learning about possible careers paths that fit me best. I'm also finding it useful because these sites list job descriptions, required skills and experiences. This information begins to help me fulfill my second objective – to find reasons why I would be well suited to these opportunities.
I've begun using a wide variety of sources for my PLN in 3 different areas: career search information, Master of Education career options, and assessment of my professional and education background. Many of the sources I've curated provide information on each specific area whereas other sources provide information on the overlap of two areas (i.e. searching for a career with an M.Ed).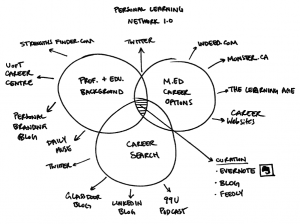 Here is a list of people/groups/organizations I'm following:
I'm using LinkedIn to research individuals who have their M.Ed and to see what careers they've have. I'm also using this social networking site to find groups and businesses that hire those with an education background.
I've begun to research job search sites like Indeed.com and Monster.ca to better understand the types of job posting that exist for people with my background and skills.
I'm also using Feedly as a news aggregator to keep tabs on several blogs and sites:
I've begun to use StrengthFinder.com to assess my professional strengths and preferences.
I'll also be consulting UofT Career Services to book an appointment. I'm hoping to get some career tools to help create a plan moving forward.
Lastly, I'm using Evernote to curate articles, web pages, and keep notes. It's been a great tool that I can use across platforms (laptop, mobile, etc.) to keep track and organize information sources.
I plan to look at blogs and twitter accounts pertaining to more specific jobs and careers paths. My search has been pretty broad and I think I can begin to zero in on a few career areas I'm more interested in.
I welcome and comments or suggestions in the comments below.