An important part of my PLN is to engage others to help me discover my career aspirations and personal skills.  I've done assessments in the past but have not always found them helpful or action oriented. That's why I was interested in trying the Clifton Strengths Finder.  The assessment is based on 50 years of Dr. Donald O. Clifton's work on Strengths-Based Psychology. The assessment was referred to me by a colleague who is training to become a personal coach. I bought the book and took the online assessment.
Here's how it went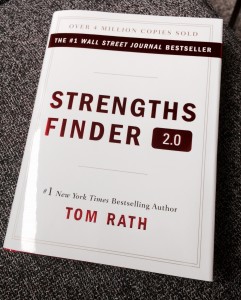 . The assessment takes approx. 30 minutes with roughly 120 questions that seek to determine your preferences between two personal tendencies. For instance, would you agree that you look to the past to understand the future of do you go with the flow? Only 20 seconds is allocated for each questions which means a gut reaction is necessary. After the assessment is over your strengths are tabulated.
Here's a summary of my top 5:
Restorative – People who are especially talented in the Restorative theme are adept at dealing with problems. They are good at figuring out what is wrong and resolving it.
Adaptability – People who are especially talented in the Adaptability theme prefer to "go with the flow." They tend to be "now" people who take things as they come and discover the future one day at a time.
Responsibility – People who are especially talented in the Responsibility theme take psychological ownership of what they say they will do. They are committed to stable values such as honesty and loyalty
Intellection – People who are especially talented in the Intellection theme are characterized by their intellectual activity. They are introspective and appreciate intellectual discussions.
Strategic – People who are especially talented in the Strategic theme create alternative ways to proceed. Faced with any given scenario, they can quickly spot the relevant patterns and issues.
I love that I got 'restorative' and 'strategic', sounds like something I can brag about. Now I usually take these assessment with a grain of salt as many are similar to reading your horoscope (written in broad strokes that can be applicable to anyone). But what I find helpful about the Strengths Finder is the amount of detail and description available for each strength. They also list many different ways of capitalizing on your strengths and ways of working with others who posses it.
I plan to pour through my results more closely.  I'd love use these results to better the way that I work and to find me continued career satisfaction.