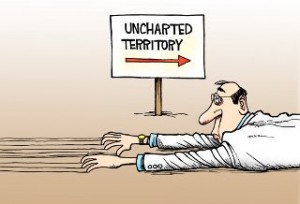 During this final post I will reflect on the development and use of my personal learning network. Below is a reflection on my process and findings.
My first list of network components outlined blogs, social networks, aggregators, websites, curation tools, podcasts, and a few other non-internet related resources. I've had the benefit of using all of these tools to help answer my project question, 'What types of career advancement opportunities are available to me once I complete my Masters of Education degree?' Here are the additional network components I've added to my network:
These are the job search websites I've used to research positions that require and M.Ed.:
Indeed.com
Workopolis
Chron.com
Monster.ca
Wowjobs.com
Eluta.com
UofT Job Board
I've begun to follow a few more people/organizations on Twitter:
@InstrDesignJobs – Info on instructional design jobs
@WEAadulted – Workers' Educational Association
@CALCadult – The official Twitter page of TDSB's City Adult Learning Centre
@kellygarber – Kelley Garber, professional instructional designer
I've also began research companies that hire individuals with M.Ed.'s, here are a few:
BMO Financial Group (Learning Designer)
University of Toronto (Director, Student Engagement)
Home Depot (Instructional Designer)
RBC (Product Manager)
Industrial Alliance (Lean Manager)
I've also contacted several individuals on LinkedIn with an M.Ed. I won't post their names on this blog but here are their job titles:
Engagement Manager
Director, Talent Development
Vice President of Organizational Capability
Instructional Designer
To be honest, I was very excited about this assignment. It gave me an excuse to search far and wide for answers to certain career questions I've been thinking about for sometime. The assignment gave me an opportunity to put some structure and constraints around that search. I find that putting these limitations on yourself does help to get things done and avoid procrastination. Going through the process of defining a question, objectives, and a network gave a framework within to conduct my search.
Doing this type of career exploration in the past has been very haphazard – long bouts of inactivity followed by an intense and deep dive into a specific area (i.e. resumes, portfolio's, graduate schools). Creating a personal learning network made that process a regular habit and made me accountable to produce results on an on-going basis. That accountability and reporting (through the blog) served as an excellent reflection tool to capture and synthesize my learning.
I have learned a lot through this process but the one thing I'd change is my dependence on Internet resources. These resources provide a lot of useful information but don't provide much information on how to make sense of it all. For example, I can easily search for 'Types of Masters of Adult Education Jobs' and receive many hits with detailed explanations. Yet, for a person with my skills, background, and experiences it's hard to know what would best suit me. That's why I feel that off-line resources (i.e. real people and businesses/organizations) should have factored more into my search. These types of resources help provide context and personal experiences that may mimic my own. I plan to continue this assignment after the course is over and plan to include more informational interviews and coffee chats.
To review, my learning objectives were:
Identify 5 specific career advancement opportunities available to me upon graduation.
Define 5 reasons why I would be well suited to these opportunities (relevant skills, experience, interests) and 3 reasons why these opportunities would be meaningful to me (career advancement, stimulating).
Develop a plan to pursue the career advancement opportunities best suited to me.
I have certainly identified more than 5 possible opportunities available to me upon graduation and have been able to identify a few reasons why I would be well suited. I plan to elaborate on these opportunities during my in class presentation. What I haven't yet answered is why those positions would be meaningful to me. Again, back to the information without personal context argument – I will need to do more research into the people and organizations that these opportunities come from. As for my plan to pursue these opportunities, I'm planning doing the following:
Update my resume, cover letters, and LinkedIn profile to better position myself
Complete my online portfolio of work
Create standalone PDF of work to send to potential employers and networkers
Learn more about these positions/opportunities through chats and informational interviews
Apply! By applying to job postings I can get a better sense if I'm well suited and it will give me practice on the job search front.
Lastly, here are 3 findings that have come from my personal learning network:
There is no single career path for an individual with a Masters of Education. Career opportunities span many different industries and type of work. It can be leveraged in a career in these ways:
Careers that require it (i.e. Instructor, Instructional Designer)
Careers that value it (i.e. Director of Student Services)
Use it to be better at what you do (I.e. Vice President of Organizational Capability)
I've realized I'm well suited to more positions that I previously thought. I've worked in a very niche field for a long time and had difficulty imaging those skills were transferable. Through his process I've learned this is simply not true and that I bring experience and a unique set of skills to the areas I've looked into. I find this exciting and makes me very optimistic.
'What do you want to do?' is still a difficult question to answer. This question is at the crux of my PLN and I still feel I haven't answered it. Through this process I believe that there is no single right answer but rather a series of better answers. This process has opened up new doors and shut a few windows for me. It's helped me narrow my search and given me pathways to think about.